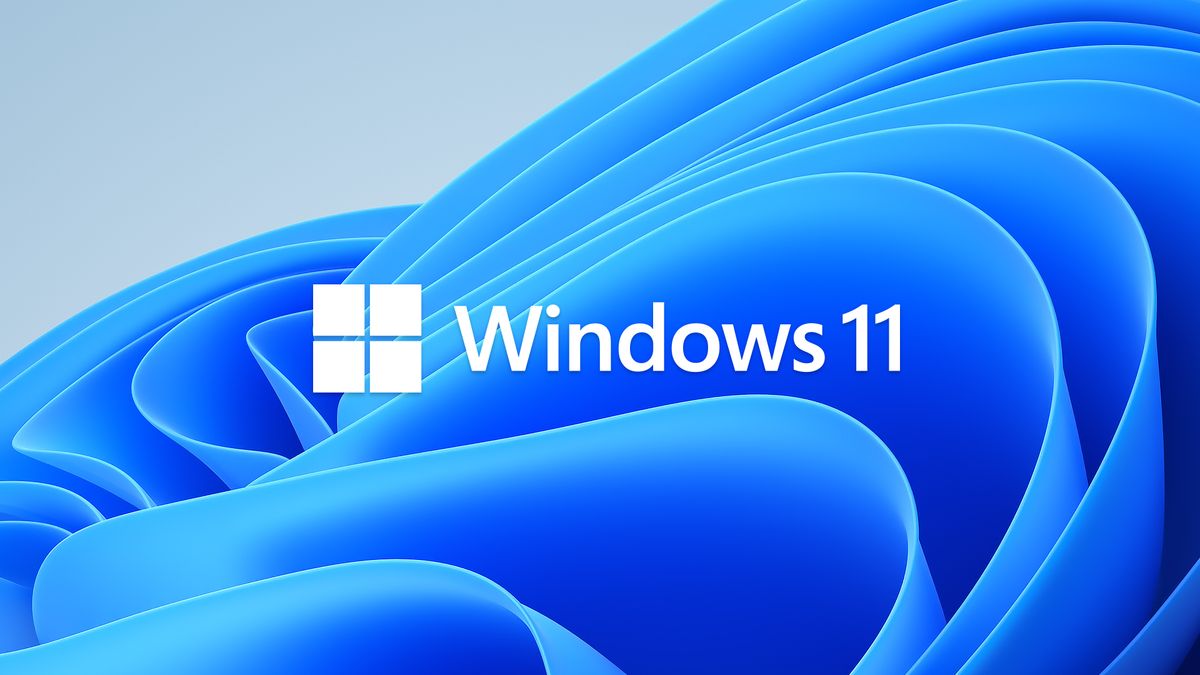 Windows 11 is coming: a whole new interface, support for Android applications, and it's free!
Microsoft has revealed that the next version of its Windows operating system will be called… wait… Windows 11! But while the tech giant may have played it safe with the name, early indications suggest that it is a drastically different operating system from Windows 10.
Here are 11 things you need to know about what's coming to Windows 11 …
Windows 11 will include a brand new Start menu and a new Start button, which will be aligned in the center of the taskbar. Compare that to the current location of the Start menu / button to the left of the taskbar – something that has remained consistent since the introduction of the Start button in Windows 95.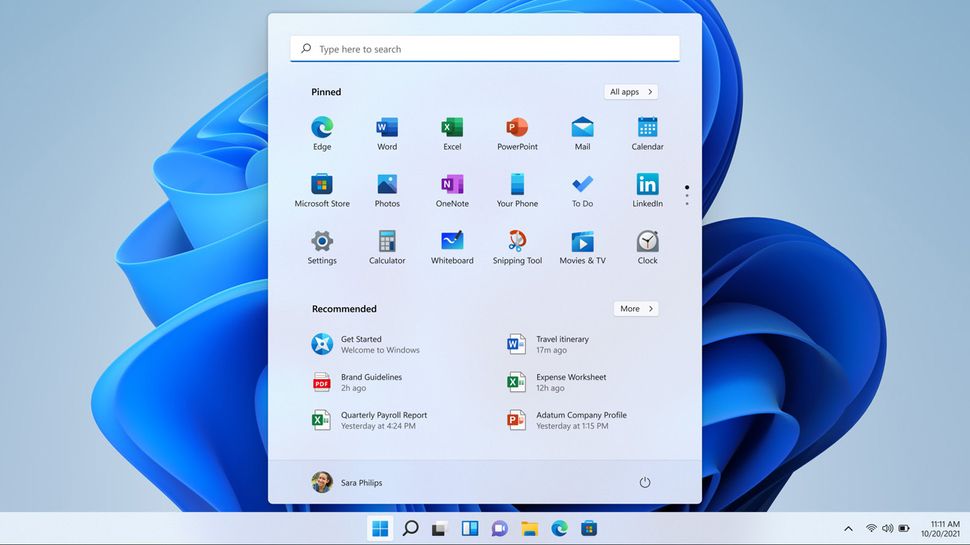 The design of the Start menu will also be significantly different from that of Windows 10, as it will remove the Live Tile design introduced in Windows 8. Instead, the new Start menu will look like a Chrome OS or Android app launcher, with sections for apps. , recent documents and research. The overall aesthetic is clearly a nod to macOS and Chrome OS, but that's not necessarily a bad thing. Microsoft received a lot of criticism when Windows 8 launched for its Live Tile Start Menu, as the emphasis on touch input meant it didn't feel natural when used with a traditional desktop mouse, especially compared to the more traditional Windows 7 Start menu. While Microsoft tweaked the Live Tile Start menu design in Windows 8.1 and version 10, it always looked like developing a flawed core concept. Therefore, a redesign of the clean-leaf Start menu could add some much-needed ergonomic cohesion.
2. Instant layouts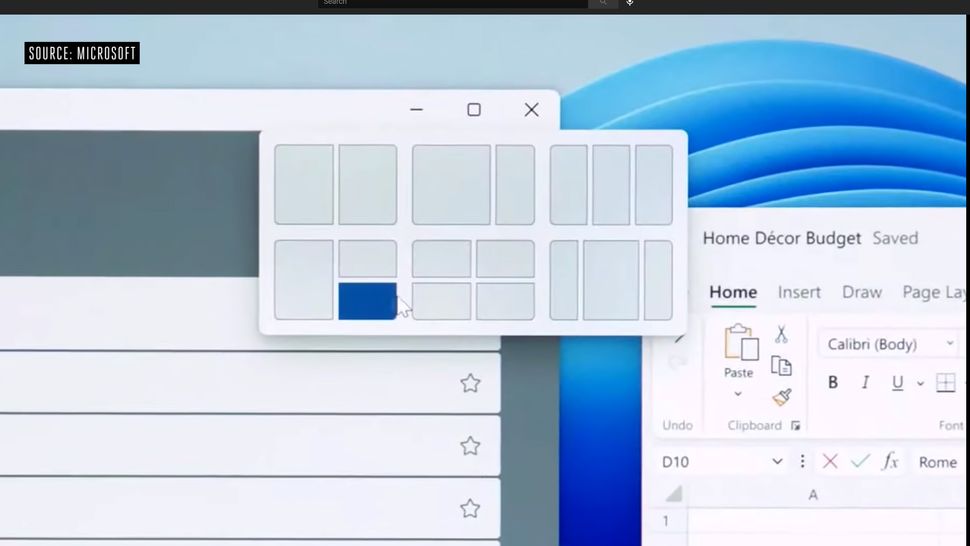 Snap Layouts looks like a development of the incredibly useful Windows Snap, first introduced in Windows 7 as "Aero Snap". In Windows 10, this allows users to drag an open window to the left or right of the screen to fill the left or right half of the monitor, and snap a second window to fill the remaining half. The trick can also work with a 4-way "quad" layout, dragging each app to different corners of the screen. The new Windows 11 Snap Layouts feature seems to let you instantly organize open programs into a defined app layout – no separate click / drag movement is required. An additional Snap Groups feature will recall the layout of open apps, making it even easier to revert to a preferred app layout – especially useful when working on multiple monitors or when using a portable monitor alongside a laptop .
3. Separate offices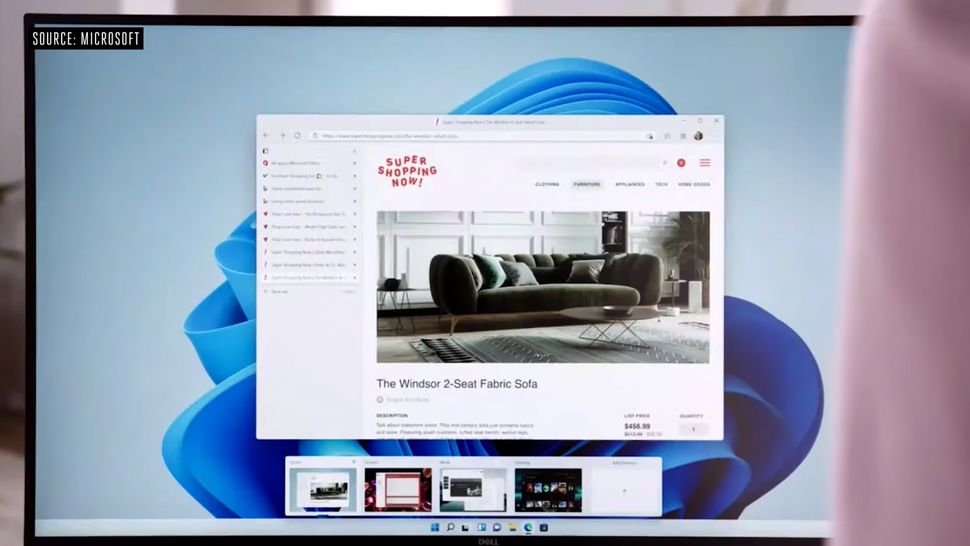 With Windows 11, you can now have separate offices for home, school, work, or play, making it easier to separate home, work, and play environments for fewer distractions – especially useful with the work boom. home.
4. Streamlining Windows Updates
Microsoft says Windows 11 updates will be 40% smaller than Windows 10 updates and will be downloaded and installed in the background to be less intrusive. How Microsoft is able to quantify that each update will be 40% smaller than before is a bit beyond us, as even Microsoft certainly cannot predict the future, but any attempt to make Windows updates less tedious can only be a good thing.
5. Integration of Microsoft Teams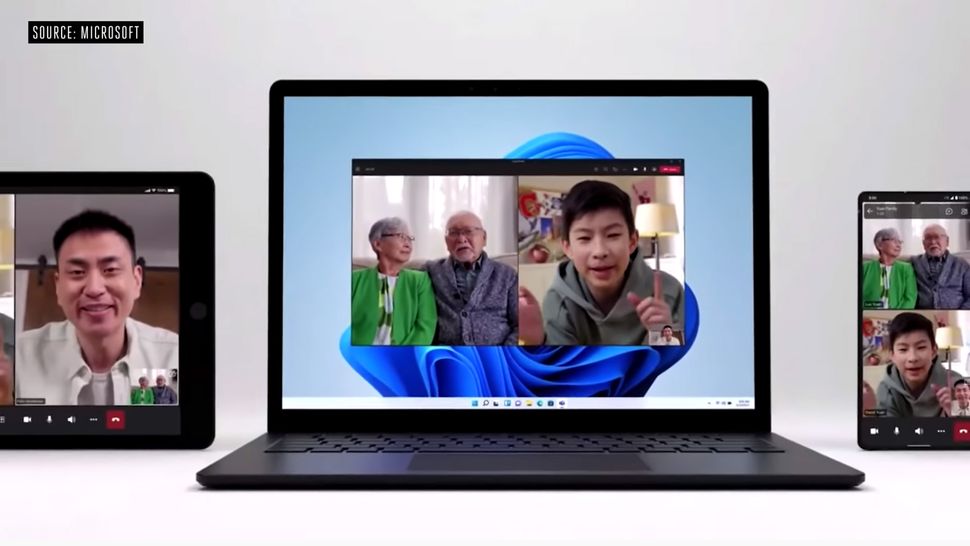 Windows 11 will see Microsoft Teams incorporated as a core feature of the operating system, rather than a separate app. It was obvious that Microsoft would seek to improve the visibility of teams since the popularity of video conferencing has exploded in a post-Covid society. Teams will be included in the taskbar and look set to steal the attention of Skype as the go-to Windows communications app for connecting with family, friends and colleagues. Windows 11 will also include a universal mute button for all software in the system tray, allowing you to mute in all apps with the click of an icon.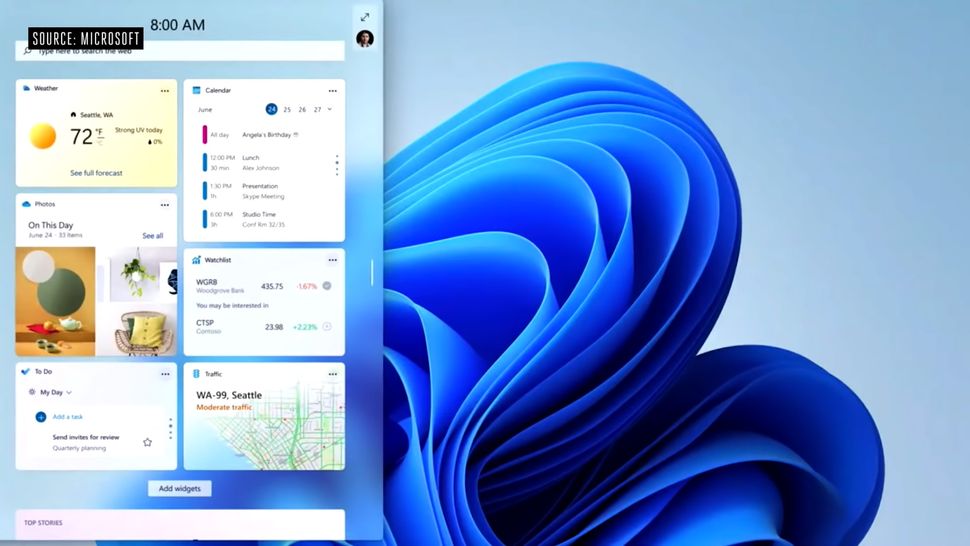 Widgets is a custom, AI-powered feed that builds on widgets already introduced in Windows 10. Weather, news, and maps widgets will be included with Windows 11 from the start. The Widgets panel will slide in from the left of the screen, with the option to display it full screen.
7. Improved touch and gesture control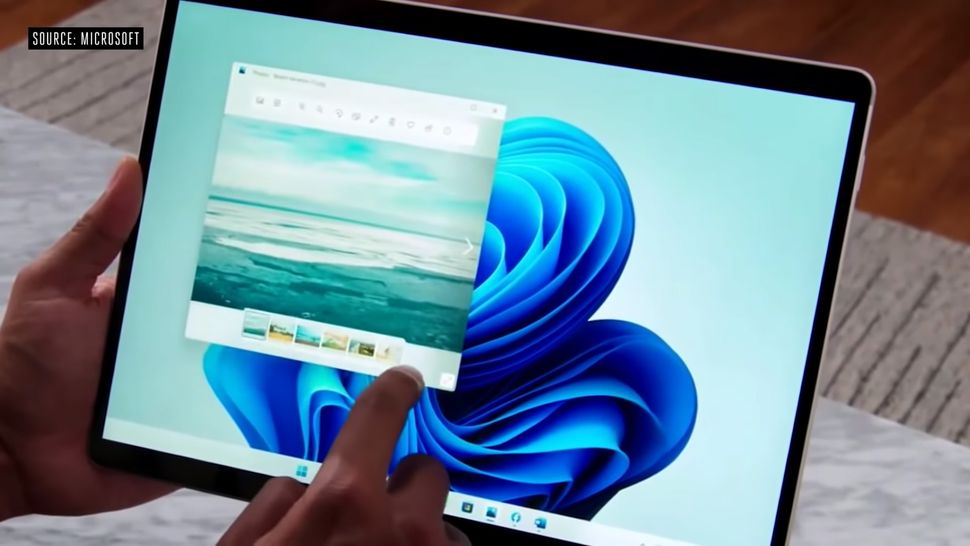 In an effort to make Windows 11 work more consistently than Windows 10 on desktops and mobile devices, Windows 11 will intelligently scale from conventional mode to tablet mode, rather than switching between the two modes like in Windows 10. Gesture control would also be improved. , and touch targets will also be improved. Pen input will also see an ergonomic improvement in the form of support for haptic feedback, and voice input would also be more precise.
8. Game improvements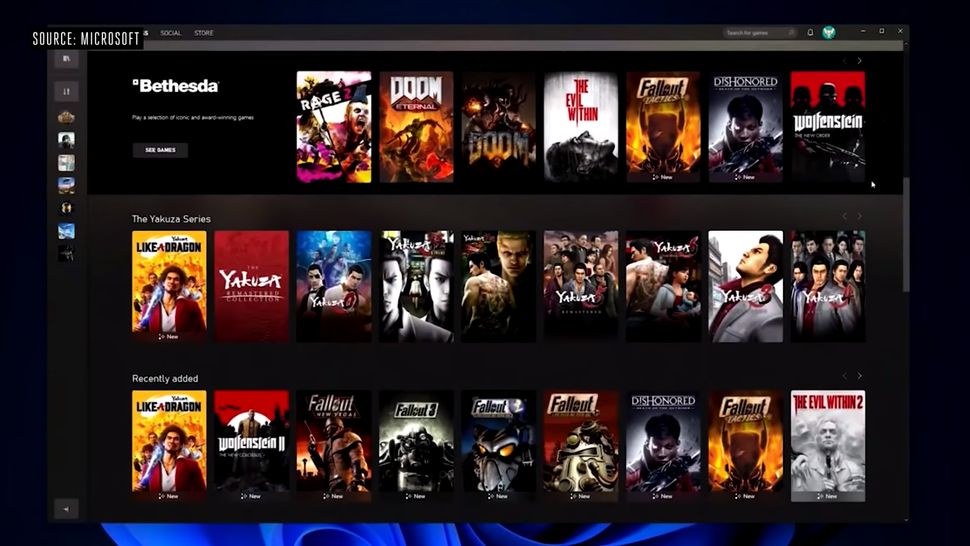 Xbox Game Pass – Microsoft's game subscription service – needs to be integrated with Windows 11 as part of a new Xbox app. It will also be Microsoft xCloud, which lets you stream games from Microsoft cloud servers, competing with cloud gaming services like Google Stadia.
Windows 11 will also support DirectStorage – an Xbox Series X / S feature that uses the latest NVMe SSDs to turbocharge game load times. Game developers could code new titles to reduce load times even further.
9. New app store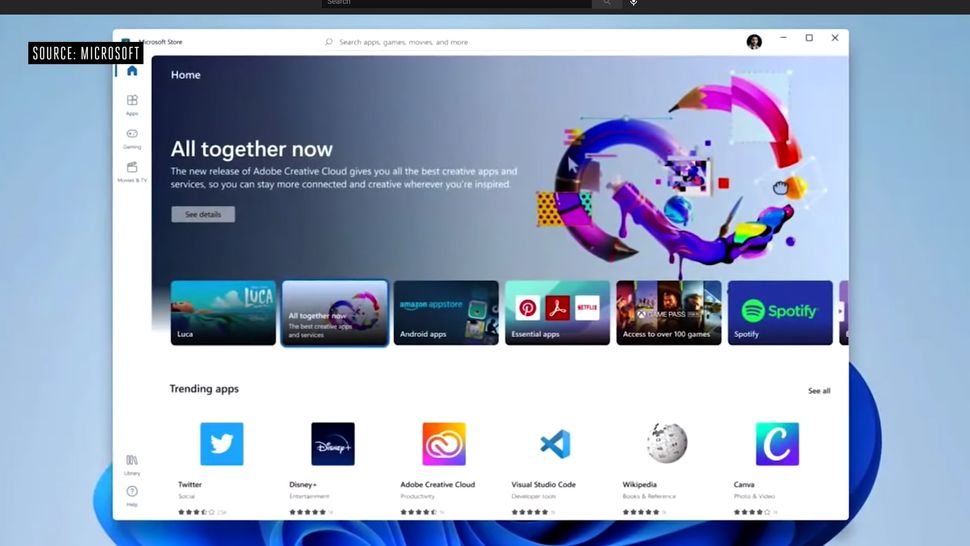 The Microsoft Store is about to receive a redesign and will support many more apps than ever before in Windows 10. Apps like Adobe Creative Suite will now be downloadable through the Microsoft Store, while app developers will also be available for download. free to implement their own payment systems and Microsoft will not take a discount on application payments.
10. Support for Android applications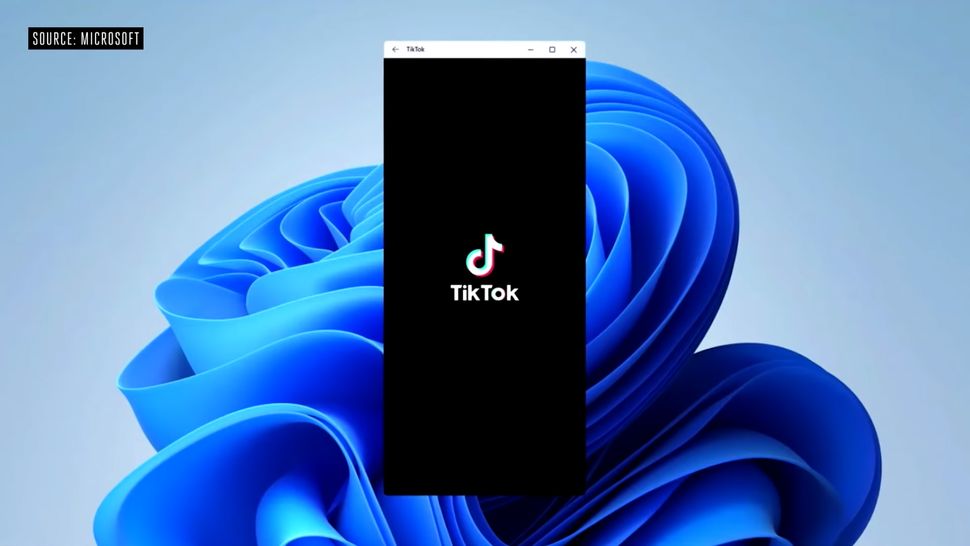 Want to use Instagram or TikTok on your Windows PC as well as your mobile device? You will be able to do this with Windows 11. Microsoft has teamed up with Amazon and Intel to develop Intel Bridge, which can run Android applications with native Windows software in Windows 11. This is perhaps not the most surprising revelation. Windows 11 can work. Android apps, given that Apple's M1-based macOS devices can now run OSx mobile apps, but the functionality is nonetheless an extremely useful and important inclusion with Windows 11 and further integrates the desktop and mobile computing spheres.
11. Price and availability
Windows 11 is expected to roll out as a free upgrade for existing Windows 10 users, just as Windows 10 was originally billed as a free update for Windows 7, 8, and 8.1 users. An official release date has not been revealed, but it is rumored that we will see commercial availability of Windows 11 by the end of the year.
Read more:
The best photo editing laptops
Best external hard drives for photographers
The best NAS drives
Best internal SSDs
the best drawing tablets for photo editing
The best mouse for photo editing
The best monitors for photographers in 2021
The best photo editing software
The best laptop stands