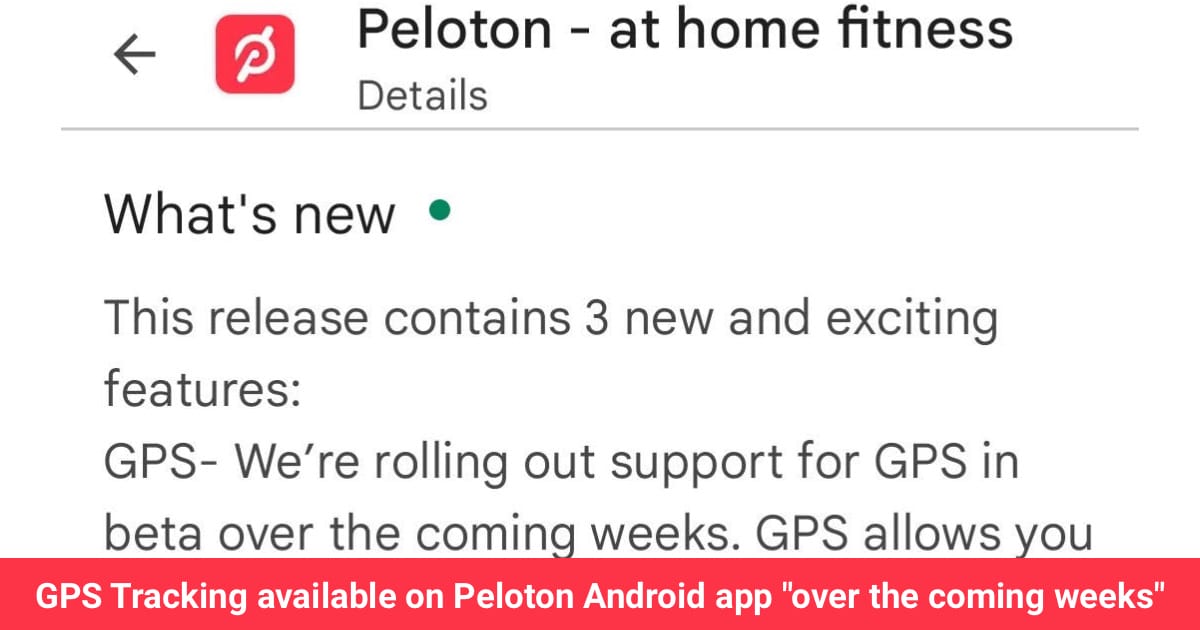 Launching GPS tracking on the Peloton Android app "in the next few weeks"
The GPS tracking feature that has long been available on the Peloton iOS app finally seems to be making its way to the Android app. The app's latest patch notes contain a new mention of the GPS tracking feature:
This release contains 3 exciting new features:
GPS – we are rolling out GPS support in beta over the next few weeks. GPS allows you to track the speed, distance and route of your outdoor runs.
Portrait Player – Allows you to watch any class in portrait orientation so you can follow your Peloton class the way you want.
Filter for Platoon Guide Classes – The "designed for motion tracking" filter allows you to filter strength classes and bookmark them to take your Platoon Guide.
It seems that not all users see these notes in the Android app description.
The GPS tracking feature – which allows members to view metrics from their outdoor runs – first launched on the iOS app in 2019. Yet it took more than three years for the feature to launch on the Android app. We reported that Peloton was getting closer to adding GPS tracking functionality to the Android app in late April – around the same time that there were issues with the accuracy of the feature on the iOS app.
We've already reported on the "designed for motion tracking" filter being added to the Android app. This feature has been highly requested by Guide users and will hopefully be available on other platforms soon.
GPS tracking is the first step for Android users to receive the highly requested "Just Workout" feature that was launched on the iOS app last month. This feature allows members to track and receive Peloton Credits (maintaining your daily streak, annual challenge minutes, etc.) for any walks, runs, or bike rides taken outdoors. "Just Workout" is not yet available on the Android app, and the feature requires GPS tracking capabilities to work. You can read more about this new feature in our overview article.
If you are an Android app user, will you use the new GPS tracking feature?
---
Want to make sure you don't miss any Peloton news? Sign up for our newsletter and get all the latest Peloton updates and Peloton rumors delivered straight to your inbox.