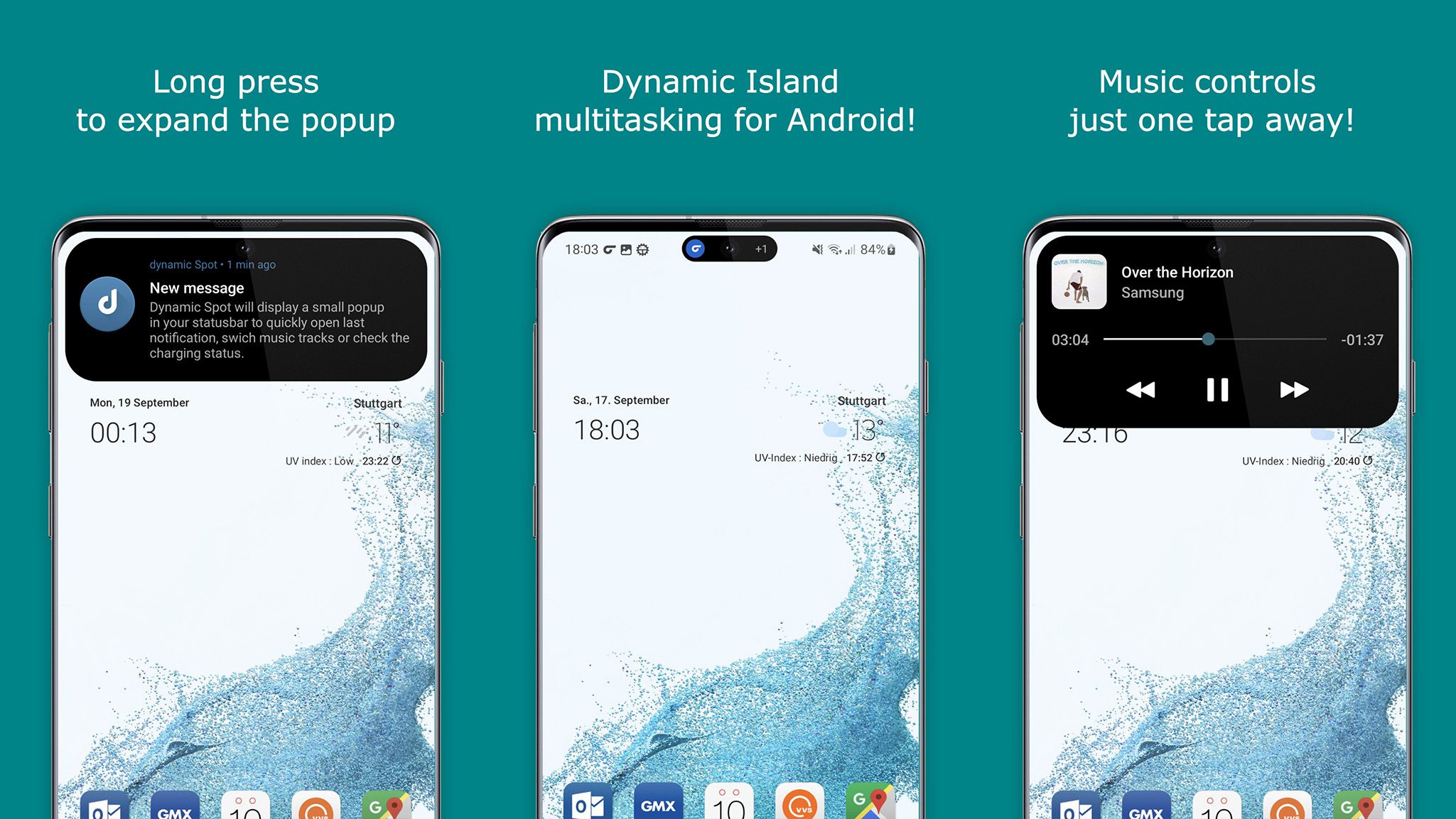 Android App Copying iPhone 14 Pro Dynamic Island Released On Play Store
A copycat version of Dynamic Island from the iPhone 14 Pro has arrived on Android's Google Play Store in the form of an app called "dynamicSpot".
The app, still in beta, offers customers several different experiences on top of their smartphones. In its current form, dynamicSpot offers playback control for songs, timers, battery status, and other upcoming features, according to the app's description. dynamicSpot also offers customization features not available on Apple's Dynamic Island.
With dynamicSpot, you can easily get the Dynamic Island functionality of iPhone 14 Pro on your device! dynamicSpot gives you the Dynamic Island mini multitasking feature, making it easy to access recent notifications or phone status changes. Simply tap the small black popup window to open the displayed app, long tap the popup window to expand it and view more details. iPhone's dynamic island is not customizable, but dynamicSpot is! You can change interaction settings, select when to show or hide the popup or which apps should appear.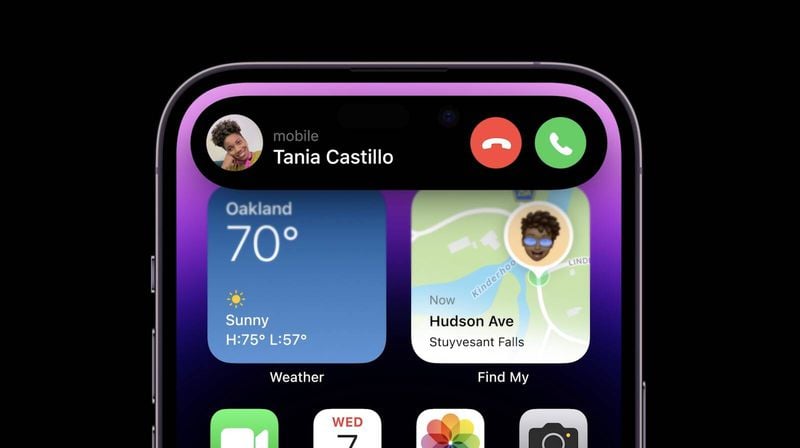 ‌The dynamic island of the iPhone 14 Pro‌
Instead of leaving the pill-shaped area at the top of the screen unused, Apple decided to create new experiences for ‌iPhone 14 Pro‌ and ‌iPhone 14 Pro‌ Max users. Dynamic Island displays various types of information and commands for users, including Now Playing, timers, and other system-wide alerts such as AirPods connection. Chinese smartphone maker realme has indirectly called Apple's Dynamic Island "very attractive" as it seeks ideas to replicate it.
Related stories
Realme Crowdsourcing Ideas to Copy Apple's Dynamic Island
Chinese smartphone maker realme is asking its "loyal fans" for ideas on how to copy Apple's dynamic island from iPhone 14 Pro and iPhone 14 Pro Max. In a challenge, realme says, "the user interface around the camera hole could transform into different shapes and sizes to display incoming phone calls, alerts, notifications, etc., precisely like Apple's Dynamic Island. . The company finds this idea…
Xiaomi developer tries to imitate the dynamic island of the iPhone 14 Pro
A developer set out to recreate Apple's Dynamic Island experience from the iPhone 14 Pro on Xiaomi's flagship smartphones by integrating the punch-hole cutout into an interactive and dynamic area of ​​the screen. The new theme, called Grumpy UI, was shared on Twitter and shows the theme using the punch-hole cutout at the top left of the screen to display the song currently playing. The…
How the iPhone 14 Pro's New "Dynamic Island" Works
With the launch of iPhone 14 Pro and iPhone 14 Pro Max, Apple introduced an updated design that removes the notch on the front for the TrueDepth camera. Instead, Apple made the hardware lighter and placed the proximity sensor below the display, allowing for a smaller pill-shaped cutout. Subscribe to the MacRumors YouTube channel for more videos. As we learned during the rumor…
Concept imagines the dynamic island of the iPhone 14 Pro on iPad
A new concept imagined what it could be like if Apple brought the dynamic island of the iPhone 14 Pro to the iPad, using Apple's new UI design and hardware and software integration approach. company to provide iPad-specific controls and functionality. Dynamic Island on iPad concept by Parker Ortolani The concept created by Parker Ortolani envisions an iPad Pro with a…
Apple repeatedly shows iPhone 14 Pro design without Dynamic Island
Apple repeatedly describes the iPhone 14 Pro's "pill and punch" display cutout design without a dynamic island, although it's not an option on the device. Apple support document showing the supposed "pill and punch" cutout design. In a new support document titled "Use Always-On Display with your iPhone 14 Pro or iPhone 14 Pro Max" that was released yesterday, Apple…
The internet reacts to the dynamic island of the iPhone 14 Pro: "one of the best designs from Apple"
Following the introduction of iPhone 14 Pro and iPhone 14 Pro Max with the all-new Dynamic Island feature, which cleverly integrates the new pill-shaped notch replacement in iOS for system alerts and features , netizens have reacted overwhelmingly positively to Apple's new UX design. In the United States, "iPhone 14 Pro‌" and "Dynamic Island" were trending on Twitter…
Dynamic Island: first look at the new iPhone 14 Pro pill-shaped cutout
Apple today introduced the iPhone 14 Pro and iPhone 14 Pro Max with a new pill-shaped cutout called "Dynamic Island," which Apple says offers "a rich and delicious new way to interact with people. activities, alerts and notifications" on devices. With a combination of hardware and software, Dynamic Island can transform into different shapes and sizes for things like incoming phone…
Dynamic Island games are coming to iPhone 14 Pro
The iPhone 14 Pro includes a new smart dynamic island that hides the front-facing TrueDepth camera hardware, and third-party app developers are already experimenting with ways to take advantage of the iPhone's new capabilities. Apple allows third-party developers to create Dynamic Island experiences, which could end up including games. Kriss Smolka, the developer behind apps like…
popular stories
YouTuber tests the durability of the Apple Watch Ultra with a hammer: the table breaks before the watch
A YouTuber put Apple's claims about the durability of the Apple Watch Ultra to the test by subjecting it to a drop test, a pot of nails, and repeated pounding with a hammer to test the protective sapphire crystal the screen. TechRax, a popular channel for testing product durability, first tested the Apple Watch Ultra by dropping it from about four feet. The Apple Watch…
Six major products to expect from Apple in 2023
As we near the end of a busy product release season for Apple with only new iPads and Macs to be announced over the next month, we are also targeting 2023. Apple is rumored to have several major products in the pipeline. for the next year, including new Macs, a new HomePod, a VR/AR headset, and more. In addition to the new iPhones and Apple Watch, which are expected…
Apple Watch Ultra User Mods titanium case to 'deuglify' design
An Apple Watch Ultra user modified the case of his new device to add a brushed finish and removed the orange color from the action button to make it more visually appealing. The Apple Watch Ultra features the first complete redesign of the Apple Watch since the product line was announced in 2014, and while the design has been praised by many users, some have criticized…
Some iOS 16 users are still facing unresolved bugs and battery drain two weeks after launch
Today marks exactly two weeks since Apple released iOS 16 to the public. Along with the custom lock screen, major changes to Messages, and new Maps features, the update also had its fair share of bugs, performance issues, battery drain, etc. After major iOS updates, it's normal for some users to report issues with the new update, but these reports usually go away in…
iPhone 14 Pro features live sports scores in Dynamic Island on iOS 16.1
Earlier this month, Apple announced that iOS 16.1 will enable a new Live Activities feature that lets iPhone users stay up to date with what's happening in real time, like a sports game or a food delivery order, right from the lock screen. On the iPhone 14 Pro and Pro Max, Live Activities also integrates with Dynamic Island. Premier League game at Dynamic Island via Paul Bradford…
Verizon iPhone 14 Pro customers reporting cellular connection issues
iPhone 14 Pro customers on the Verizon network in the US are reporting issues with slow and unreliable 5G cellular connections and randomly dropped calls. Several threads on Reddit (1,2,3) and the MacRumors forums chronicle issues experienced by Verizon customers and Apple's latest iPhone. According to user reports, signal strength on iPhone 14 Pro is unreliable and weak, while others…
Gurman: New iPads and Macs can be announced through press releases, no October event
Apple may decide to release its remaining products for 2022, which include updated iPad Pro, Mac mini, and 14- and 16-inch MacBook Pro models, through press releases on its website rather than online. a digital event, according to Bloomberg's Mark Gurman. In its latest Power On newsletter, Gurman said that Apple is currently "likely to release its remaining 2022 products via press releases,…
Apple Watch Ultra acclaimed by trend setter John Mayer Watch World
Apple Watch Ultra has been endorsed by American musician and famous watch collector John Mayer, who showcased the new device on his Instagram account. "Been wearing the Apple Watch Ultra for a week…and it's awesome," Mayer wrote in a photo of the watch. "The first Apple Watch that got me excited as a mechanical watch collector." "He's loaded with abilities and what I call…